This text was written in German. The translation in English was created by machine with DeepL and without proofreading.
After settling in, the new experiences really started.
After the well-built Osaugie Trail, we continued on the Tri-County Corridor Trail. This was then unfortunately no longer asphalted and optimized by the surface rather for ATV's, so that this was in places rather difficult to drive.
In Amnicon Falls State Park we made our lunch break. After the relaxing lunch break we left the trail. To avoid the big and noisy two-lane highway, we tried our luck on back roads. The first long climb was on a sunny and dusty gravel road. After that, it was mostly straight on paved side roads, but steadily up and down. So by the time we arrived in Bennet, we had mastered twice as many meters of altitude as planned.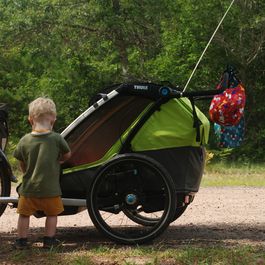 Superior - Bennett
Distance
41.1 km
Elevation
↑ 455.0 m ↓ 148.0 m