This text was written in German. The translation in English was created by machine with DeepL and without proofreading.
Contrast program to cycling - We explore the Twin Cities by public transport.
We spent the remaining short week of our vacation in Minneapolis, where we stayed with Sigrid and Kevin. Besides packing our equipment for the return flight, we used the time for some excursions in Minneapolis and the twin city of St. Paul.
Our first destination was the Mall of America, the most visited shopping mall in the world. To do this, we immediately tried out public transportation. Despite the fact that the streetcar had to be replaced by a bus for some stretches due to construction, the trip there and back worked perfectly. As with the other excursions this week, the streetcars and buses were similarly punctual as in Switzerland. Despite short delays, we did not miss any connections.
With the titles of most visited shopping mall in the world and largest shopping mall in the USA, we had imagined the Mall of America to be larger. Nevertheless, the size was overwhelming and the amusement park with roller coasters in the middle of the mall was impressive. To our great astonishment, there were no grocery stores - but that is common for such malls.
In search of a headphone adapter for the return flight, we were once again surprised by the quality of service in the stores: If the salespeople in one store could not help us, they gave us tips on their own about other stores where we could try.
On another excursion, we visited the Children's Museum of St. Paul. The museum is a somewhat expensive, but good indoor playground. There are creative play activities on a variety of themes for kids of all different ages.
The rest of the time we spent on smaller excursions and activities with Sigrid and Kevin. We cooked together and also played Farkle again.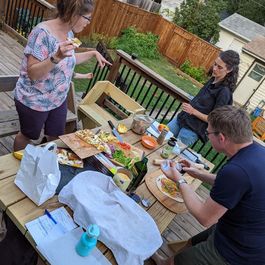 Minneapolis: Ausflug Minnehaha Falls
Distance
10.3 km
Elevation
↑ 89.0 m ↓ 71.0 m