This text was written in German. The translation in English was created by machine with DeepL and without proofreading.
Many cyclists on a too small square
Reaching the Pacific coast, we had crossed the last big hills of our trip. Instead of more rest days, we decided to split the remaining distance over the remaining days. So the next stage was very short with just under 30km. We had enough time to sleep in the morning and to wash our clothes again in Fort Bragg.
In the afternoon we reached the state park at Little River. The nice lady at the check-in was so enthusiastic about our tandem and our trip that we only had to pay for one person.
Gradually more bikers arrived at the small hiker/biker site until there were 12 of us. When the thirteenth could not find a spot, he was directed to a spot 2 miles away at about 19:00. Contrary to the description, the way there was not asphalted, but a sandy and not rideable path. Arrived there he had to find out unfortunately that this place was deserted and had no water. On his return, he suddenly received a normal place after all.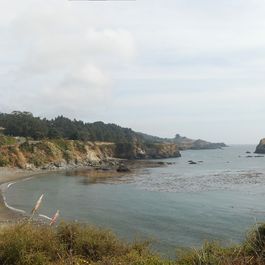 Cleone – Little River
Distance
27.1 km
Elevation
↑ 226.0 m ↓ 233.0 m