This text was written in German. The translation in English was created by machine with DeepL and without proofreading.
After a strengthening yogurt (we finally found one with fat again and not one of the many fat-free) we started into the quiet Sunday morning. On the way we met an amazing number of deer, which were grazing on the roadside.
After about 15km we discovered by chance a deli (Eat Fresh) with a wonderful assortment of food. Besides sausages and real cheese, there was also a huge counter with patisserie and salads. So we had the pleasure of a second breakfast :-).
In Nanaimo we drove now for the first time into a larger city, in which we did not get further with our paper maps. Therefore, we now looked for a way by GPS and OpenStreetmap maps. We found a wonderful trail next to the railroad line through the city.
Since we wanted to avoid the very busy Highway 19 and the Trans Canada Highway to a large extent, we make some hilly detours through a beautiful landscape with farms. The smell of the ripe blackberries was sometimes almost penetrating disturbing :-)
After 96km and almost 1000 meters of altitude, we then reached the generous campground.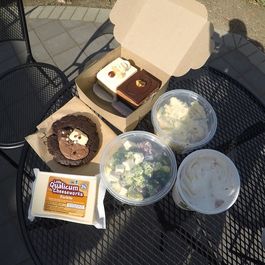 Cedar Crove Campground – Nanaimo
Distance
52.1 km
Elevation
↑ 464.0 m ↓ 459.0 m
Nanaimo - Chemainus River Campground
Distance
46.5 km
Elevation
↑ 527.0 m ↓ 475.0 m