This text was written in German. The translation in English was created by machine with DeepL and without proofreading.
Bathing in the Pacific Ocean
When we started at Kistap Memorial State Park it was still relatively cool. However, due to a strenuous up and down, we quickly warmed up.
In Bremerton we are glad to have the route on the GPS, otherwise we would not have found the way so easily. Nevertheless, we drove once wrong, because we ended up on a new road, which was neither on our paper nor on the GPS map. Shortly after the city we were on a freeway for the first time. Fortunately, there was no speeding on this stretch. Nevertheless, we were glad after a few kilometers to be able to switch back to quiet side roads.
Despite 70 kilometers we reached Twanoh State Park shortly after 3 pm. So we could have a short swim in the warm Pacific Ocean.
Since we managed to buy cream in a small quantity for the first time on our trip, we prepared a wonderful Cinque-P sauce for dinner.
At this state park, we enjoyed the oceanfront location. So it became less quickly cool in the evening.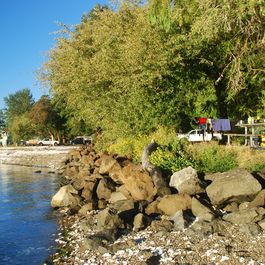 Kistap Memorial State Park – Twanoh State Park
Distance
72.2 km
Elevation
↑ 596.0 m ↓ 589.0 m